When I first started making applique quilts, I did everything by hand. Over the years, I have tried many methods of hand and fusible applique. While I love hand applique, I no longer can find the time to do it! I have resorted to making all my quilts with Fusible Applique, and quite honestly, I love it!  
There are several different cutting systems for applique that you may find useful when making fused applique quilts.  There are pros and cons to each system. While I am a bit biased (one of the systems is my own invention), I invented the Rotary Cut Applique (RCA) system because I saw so many drawbacks of the other methods.  
Cutting with Scissors: 
The first cutting system is the most common, cutting with scissors. This involves making plastic templates for your applique shapes by tracing your pattern onto template plastic. After cutting the plastic accurately, you then trace the shapes as many times as needed on the paper backing of a fusible web. Iron the fusible to the fabric then cut each individual shape with scissors.  After cutting, the paper backing needs to be removed. From that point, all the steps for completing fusible applique are the same.  
Pros:
Cons:

Least Expensive, you already have everything you need to do this
Anyone can do it    
Cut any shape and any size you want  
Books and Patterns available
Looks Hand Cut 

Hard on your hands
Time consuming
Requires a sharp pair of fabric scissors 
Extreme accuracy takes a bit of skill
Rotary Cut Applique
I developed my own SYSTEM. 
Having a SYSTEM for applique is the best way to Save You Stress, Time, Effort and Money.  
The system that I use is Rotary Cut Applique, and yes, there are tools to make this system work.
The essential items are the seven templates, a 28mm rotary cutter, a pack of blades, and Grace TrueGrips, and a good quality cutting mat (Olfa and Martelli are two good ones).   
Rotary Cut Applique System: Basic Bundle $135 plus rotary cutter and blades, $160 total,  assuming you have a cutting mat. This gives you the ability to cut 125 sizes and shapes including these standard shapes. 
Leaves Galore Shapes: Five shapes can be made in a minimum of six sizes. Hearts & More shapes: Nine shapes can be made in a minimum of nine sizes.  
I started sharing my system with other quilters about 12 years ago.  The Rotary Cut Applique system is the most time-efficient and cost savings system out of all applique methods I have tried. If you can rotary cut, you can do Rotary Cut Applique!  What I like about my system is that you are still hand-cutting the shapes.  There is a human factor that makes your shapes hand-made instead of machine-made.  To some, that is a disadvantage, but to me, the shapes feel more organic and natural.  One drawback is that it takes a little time to become proficient at cutting around the curves. A second drawback is that you are limited to the basic shapes.  You will still need to cut unusual shapes with scissors.   
Pros:
Cons

Lease Expensive, $160 for the starter bundle, rotary cutter and blades 
A wide variety of sizes
A wide variety of the most common applique shapes
Easy to Fussy Cut fabrics
Little fabric waste
Cut up to four layers at a time
Books and Patterns available
Looks Hand Cut (pro or con?)

Takes practice; some quilters will need a workshop to get the hang of rotary cutting curves. A few days practice is needed  
Requires a sharp blade and a good quality mat
Looks Hand Cut (pro or con?) 
Accuracy depends on a bit of skill
Go cutter: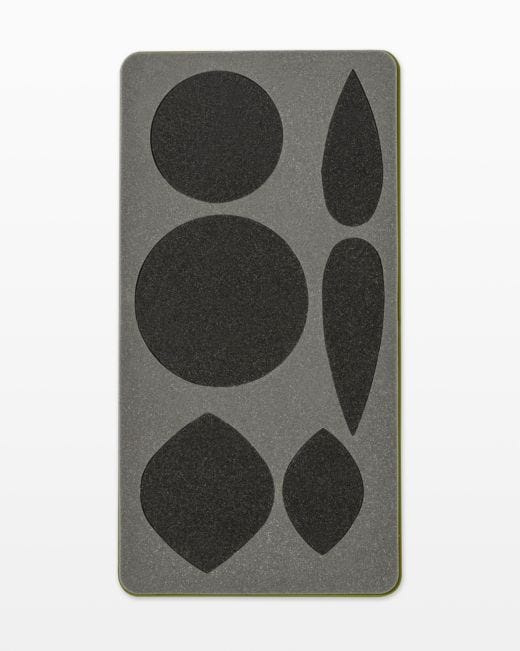 Cost and size of available Dies for similar shapes to the ones above:

Circle-2″, 3″, 5″ Die (3 sizes)

$44.99, Circle
-1 1/2″, 1 3/4″, 2 1/4″, 2 1/2″ Die  (4 Sizes)
$49.99,
Tulip Die (one size)
$29.99,
Heart-2″, 3″, 4″ Die (3 sizes) $39.99,
Queen of Hearts Die (3 sizes)
$49.99,
Orange Peel-4 1/2″ (one size)
$29.99,
Flower Die (one size)

$29.99,
Pomegranate (one size) by Alex Anderson Die
$39.99,
Rick Rack Die (one size)
$69.99
Total $354.92 for the 30 shapes listed above.  The "Go-Me" machine is $130, and can't handle the larger dies, (most of those above). You would need the "GO" cutter (on sale for $299) to cut all 30 shapes.    
Go Cutter Pros and Cons:
Pros:
Cons

Great for Complex Shapes
A wider variety of unusual shapes
Perfect size every time
Even a child can do this!  
Cut six layers at a time  

Expensive, 30 shapes, $663.92
New mats are expensive
Limited sizes of simple shapes
Some fabric waste 
Storage Space required for Machine and Dies
Hard to Fussy Cut 
Looks machine-made  
According to the manufacture, the dies are only good for 100-200 cuts.  That could be one quilt!  
Cricut Cutter, Brother Scan and Cut, and other electronic cutters: 
I have to confess, I have never used the Cricut Cutter or the Brother Scan and Cut.  They are similar machines. The concept is that they can cut any outline shape that is uploaded to the machine.  They use a stylus-type cutting blade (similar to a swivel Exacto knife).  To do this, the fabric needs to be affixed to a sticky cutting mat.  The cutting mats and the blades need replacing frequently.  
Electronic  Cutter Pros and Cons:
Pros:
Cons

Great for complex shapes
Perfect size every time
Can program for less fabric waste
Scan any shape outline (from a pattern for example)
Doubles as a crafting tool for paper and vinyl

$329.00 for Cricut Machine, $310 for Brother Scan and Cut  
Accessories (new blades and mats) are expensive
Looks machine-made  
Technical expertise needed
Cut only one layer of fabric at a time
Has trouble cutting fabric well (according to real users)
Take-Aways:  
I have developed the Rotary Cut Applique (RCA) system to address the negatives that I saw with the other applique cutting methods.
I designed the RCA SYSTEM to Save You Stress, Time, Effort and Money! 
I know I am a bit biased since I developed the SYSTEM for Rotary Cut Applique…  
The takeaway? All of the systems have Pros and Cons, and no one system is perfect. You will have to ask yourself a few questions to find the right tools.  
Do you struggle with Technology?  Don't choose an electronic cutter! 
Do you have trouble rotary cutting 2 or more layers? RCA is not for you!  
Are you very frugal? Don't waste your money on dies that will get little use.
Do you have limited space? Dies cutters and dies take a lot of room for storage.
I truly feel the RCA system is the most efficient and economical system for confident rotary cutters. While RCA does take a little practice to perfect, I am here to give you a little guidance to quickly perfect your cutting technique!
I would love to hear more about your experience with the "GO" cutter or Electronic Cutters so I can update this blog post with real user experiences. Please reach out to me if you have either of these systems and share your PRO and CON list with me! 
Do you want more quality information about fusible applique?  Subscribe to my weekly newsletter here! Newsletter subscribers get a free mini pattern for a mug rug. 
Sue Pelland Designs, Upton MA, USA
Sue Pelland, Quilt Tool Creator, Author, Designer
When I'm not in my sewing room making fusible applique quilts with Rotary Cut Applique, you will find me in my garden in the spring, summer, and fall, and hiding under a stack of quilts all winter!  
Ready to learn about Rotary Cut Applique?  Subscribe to my weekly newsletter here!